Lady Bloggers Social Online Conference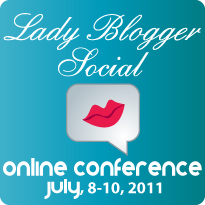 In the fast pace world of social media, blogging, and business conferences, not everyone has the time, or the funds, to be able to join a live, in-person event.  It is a great day when we can find an affordable, online conference for women that want to come together, learn about blogging, learn to further their business reach, and want to build a great network of friends and colleagues.
The Lady Bloggers Society, an online community for women bloggers to connect and learn, will be hosting the first annual Lady Bloggers Social Online Conference beginning July 8, 2011.  Don't be worried, ladies! You still receive all the same benefits as an in-person event. The only thing you lose – is all the expense!
The 3-day event will host some incredible speakers, an agenda to cover everything from blog branding, graphic creation, to community building, educational SWAG, and of course the luxury of attending in the comfort of your home. The conference is open to only 100 participants so you need to act now! This is an event that you don't want to miss!
Tags: bloggers, blogging, Laby Bloggers Social Online Conference, ladies, online identity, The Lady Bloggers Soceity, women